With COVID restrictions still in place, 2021 was the perfect year to explore more of the beautiful USA. We had been to California before, but it's so large we have to keep going back! Spring Break seemed like the perfect amount of time to get in a mini road-trip. While there was a lot of driving involved with this trip, it was totally worth it! From the mountains to the sea, this trip had it all!
Day 1: Travel and Get to Joshua Tree National Park
Our first stop on our road trip would be Joshua Tree National Park. There are several airports you can fly into. Palm Springs International Airport (PSP) is the closest, about 50 minutes away, followed by Los Angeles International Airport (LAX), about 2.5 to 3 hours away. Slightly unfortunately for us, the cheapest flights landed in San Diego International Airport (SAN), so we had to make it work. The drive from San Diego to Joshua Tree NP is about 3 hours, so not much further than flying into LAX. We landed in San Diego, picked up our rental car at FOX Rent a Car (super easy and fast - highly recommend!), and ventured out to find lunch. We ended up at Coasterra, a modern Mexican restaurant with beautiful views of the San Diego skyline. Portions were large and the food was delicious! Plus it was close to the airport! If you find yourself in this area, don't pass up the chance to eat here.
Lunch at Coasterra
Beautiful San Diego views
After lunch, it was time to make our way to Joshua Tree. We decided to glamp our first night, as it's just always an awesome experience. We stayed at this Airbnb in Yucca Valley, a decked out glamping tent with a queen bed and easy access to the park. There was a little but efficient kitchen, clean bathrooms, and even a hot tub and fire pit area for hanging out or meeting new people. It was a lovely place, but we were exhausted after a long day of travel, so we ate some dinner by our private fire pit and went to bed early.
PRO TIP: Joshua Tree is a designated International Dark Sky Park, meaning it has some of the lowest light pollution on Earth! Because of this, it is also one of the best places in the world to stargaze. Make sure you check out the amazing evening sky!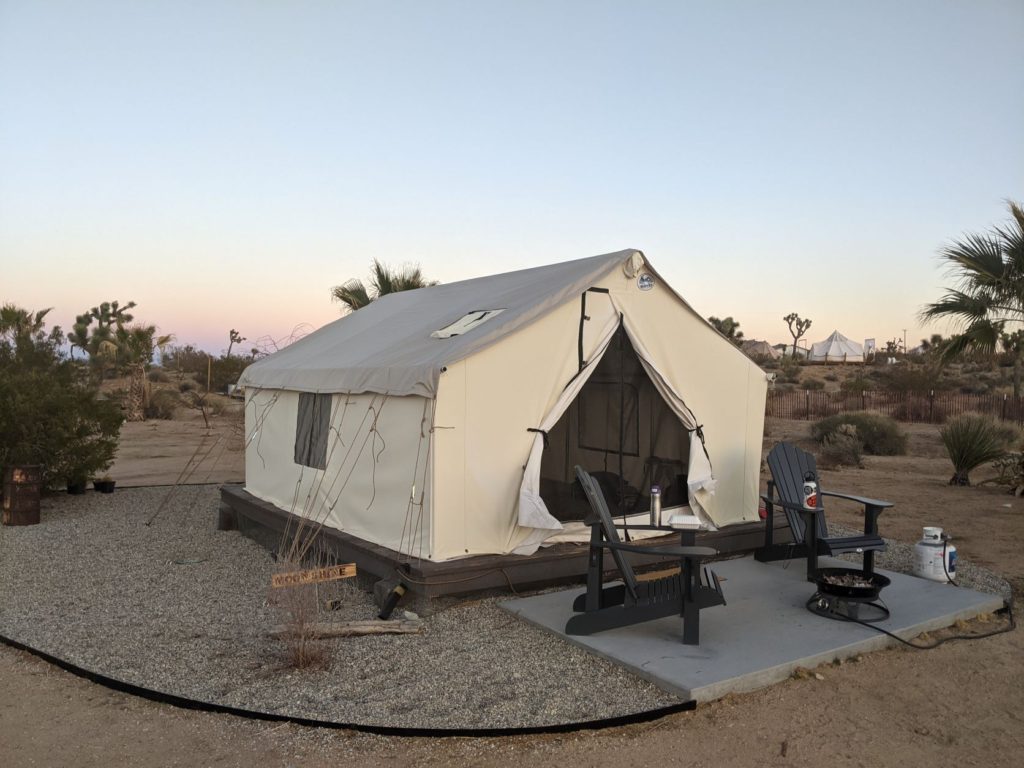 Glamping Airbnb in Yucca Valley
PRO TIP: Cell phone service can be spotty, especially in the park. Make sure to download any directions you may need, stock up on water and food supplies, and fill up your car with gas before heading out for the day.