Dubrovnik Itinerary: One Week Guide
Takeaways
This one-week Dubrovnik itinerary provides the best of museums, art galleries, palaces, tours and exciting day trips this beautiful city offers.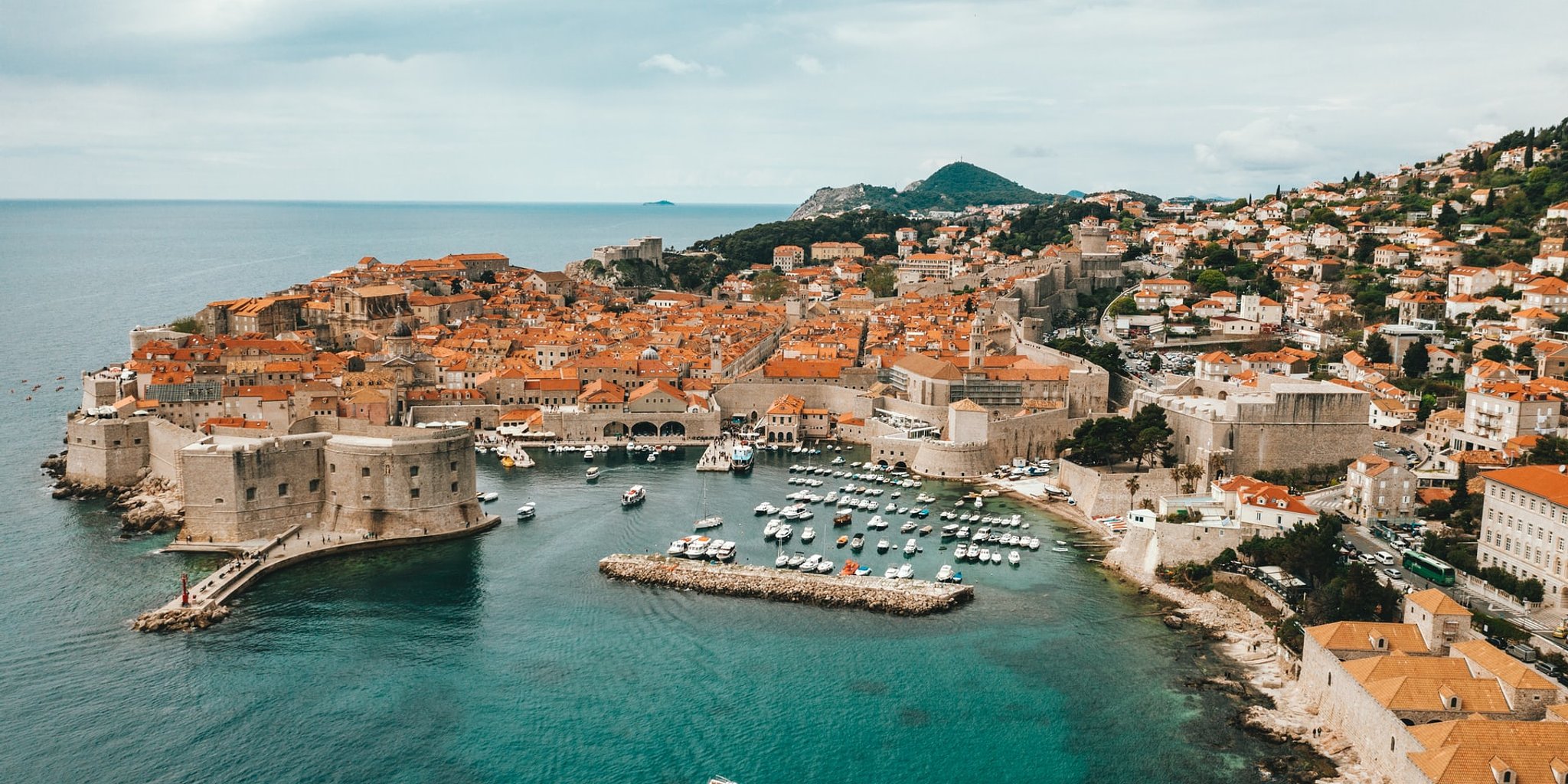 Dubrovnik is a city in Southern Croatia on the Adriatic Sea. It is famous for its unique old town, surrounded by huge stone walls which were built in the 16th century. The buildings are well-preserved including the St Blaise church, Gothic Rectors Palace which is now a history museum, and the Renaissance Sponza palace. Paved with limestone, the pedestrianized square is filled with shops and restaurants.
Dubrovnik is a beautiful city that is rich in history, art, and culture. It is the perfect place for people who are fascinated by art and history. There are plenty of museums, art galleries and palaces to visit during your one-week Dubrovnik itinerary, as well as exciting day trips and tours including the game of thrones tour if you are a fan of this legendary series.
Best time to visit Dubrovnik
Dubrovnik is not just for the history and art enthusiast. There is plenty of other activities to do and places to see in this glorious city including hiking, cycling, sailing, swimming, and kayaking. You can fit everything into your Dubrovnik itinerary if you go for a one-week holiday.
The best time to visit Dubrovnik is during the autumn when the temperatures are not too hot. However, the summer weather does attract plenty of tourists who enjoy water sports and who are stopping in the city from the cruise ports. The temperature during the summer months reaches a high of 28C, while the temperature during the autumn months reaches a high of 24C in September and 19C in October.
Where to stay in Dubrovnik
Hotel Dubrovnik Palace – If you want to splash out and treat yourself to some luxury during your Dubrovnik itinerary trip, this 5-star hotel is the perfect place. Set by the Adriatic Sea, it is a stylish hotel with a sea front terrace and high-end spa. The rooms have a balcony or terrace, flat-screen TVs, wi-fi, and mini bars. 24/7 room service is available. Breakfast is free and the restaurant offers stunning views of the Adriatic Sea.
Hotel Bellevue Dubrovnik – Located on a spectacular cliff above Miramare Bay, this hotel offers gorgeous sea views and is close to the old town. Hotel Bellevue offers a world-class service where you can relax in the indoor pool then treat yourself to a massage in the luxurious spa. All rooms are air-conditioned, have a TV, private bathroom and wi-fi. The wine bar offers a fantastic selection of wines and sparkling wines as well as finger food and wine tasting.
Old town hostel – If you are on a budget and looking for something cheaper for your Dubrovnik itinerary, old town hostel is a great choice. This boutique hostel is located right in the heart of the old town and only 15m from the main street. It is a 400-year-old building which has recently been renovated. There are 7 rooms which can accommodate 22 guests. There is also a common room and kitchen where you can meet other travellers and make your own meals. It is a clean and safe place where you can enjoy your trip to Dubrovnik.
S&L Guesthouse – If you are looking for something quieter which offers value for money, this guesthouse is the ideal option. Located in the centre of the city with a short walk to the ferry or main bus station, S&L guesthouse offers a comfortable, homelike atmosphere. Each room has a double bed with en-suite, is equipped with a spacious kitchen, air-conditioning, a TV, and access to a terrace with a garden and stunning views of the sea and marina.
Day one – Free walking tour and Dubrovnik old town
Start the first day of your Dubrovnik itinery by spending the morning with a free walking tour. It is the best way to see the city and learn about the history and culture from an experienced guide. Recognized by free tours, this Dubrovnik walking tour has won annual awards three years in a row and is believed to be the best free walking tour in the city. The tour will last around 1.5 hours and will show you the most famous attractions, hidden insights and will reveal interesting facts about the history and legends. It is an ideal way to enjoy this fascinating city.
After lunch, spend the afternoon taking a stroll round the Old town of Dubrovnik which is also known as 'the Pearl of the Adriatic'. Although, this medieval old town was damaged by an earthquake in 1667, it is still standing strong today with well-preserved Gothic, renaissance and baroque churches, palaces, monasteries, and fountains. You will be blown away by the stunning scenery and architecture. Take a hike along the walkway and have a look at the Lovrijenac Fortress which was built above a 100-foot rock which looks out towards Venice. Check out the old town's main street of Stradum which is worth seeing in the late afternoon as the sun reflects of the historic buildings.
Before heading back to your hotel after a long day of exploring, enjoy the traditional flavours of Dubrovnik, by having a meal at Trattoria Carmen. It is a family-run restaurant tucked away in a quiet street within the old town. Choose from tasty Italian food, grilled meat, or fresh seafood with a Mediterranean twist. If you have a sweet tooth, do not forget to try their fantastic desserts. You will not be disappointed. A great way to end the first day of your Dubrovnik itinerary.
Free walking tour - https://www.freetour.com/dubrovnik/free-dubrovnik-walking-tour.
Dubrovnik old town - https://whc.unesco.org/en/list/95/.
Day two – Dubrovnik Aquarium and Lokrum Botanical Gardens
Head to Dubrovnik aquarium and maritime museum for the morning. There are 31 aquarium pods in this museum which carry diverse flora and fauna of the Adriatic Sea. Discover the interesting world of many fish and invertebrates that are surrounded by rocks and plants. You will see octopus, seahorses, seabass, eels, and seabream as well as crabs, sea urchins and lobsters.
Why not stop for lunch in the aquarium's café before taking a boat to Lokrum island? The ferry is only 15 minutes and costs about 5 euros. Explore the Lokrum Botanical gardens and Lokrum island in the afternoon. Located on the East coast of Croatia and not far from the city of Dubrovnik, this special nature reserve has been open since 1976. There are around 400 plant and trees as well as some peacocks which have been on the island for more than a hundred years. In ancient times, herbs were grown in these botanical gardens. Large contributions have been made to the gardens since the 1970s.
If you are into sports, you could spend the rest of the afternoon swimming, snorkelling, or sunbathing along the coast of the Island, or you can even play volleyball or football on one of the small pitches of the Island.
Before taking the ferry back to Dubrovnik, make sure to indulge in some fresh seafood or meat at Locroma restaurant on the Island. They serve typical Dalmatian dishes such as seabass, octopus, grilled squid, beef steaks and pork medallion. A perfect way to end day two of your Dubrovnik itinerary one week.
Dubrovnik aquarium - https://www.imp-du.com/.
Lokrum Island and Botanical gardens - https://www.dubrovnik-travel.net/lokrum-island/.
Day three – Rector's palace, Saint Ignatius Church, and Franciscan Church and Monastery
Spend day three of your Dubrovnik itinerary exploring the historical palaces and churches this fascinating city has to offer.
Rector's palace was built in the 13th century but was re-built on two occasions and designed by Michelozzo Michelozzi in a Gothic style. This palace held the government and state offices and was home to the Rector's headquarters and living accommodation during the times of Reguza. It has become a town museum and a music concert hall. The palace is open for visitors and tickets cost 100 Kuna.
Next stop – head to St. Ignatius church on the South side of Gundulic square. Built in 1725, this catholic church is accessible via an iconic Baroque staircase and was featured in the Game of Thrones series. This church is also a popular place of worship. It is open every day and admission is free. If you come in the summer months of July and August, check out the Dubrovnik summer festival at the church it becomes a performance venue for the city-wide celebration of the arts.
After lunch, take your time to explore the Franciscan church and monastery which is a large building that belongs to the Order of the Friars Minor and is located on the main street of Dubrovnik. It consists of a library, pharmacy, church, and a friary. The library is one of the richest and oldest in Croatia and holds over 70,000 books which include 1200 old manuscripts which hold exceptional value. It is the perfect place for lovers of books and history.
End a long day of exploring the historic churches and palaces by capturing the sunset and admiring the breath-taking views of the Adriatic Sea while enjoying a lavish meal of exquisite Mediterranean cuisine in the Above five Michelin star rooftop terrace restaurant in the Hotel Stari Grad. Relax with an after-dinner cocktail in the stylish and sleek lobby bar or choose from a range of the world's best American, Asian, Irish, and Scotch whiskey and gins before heading back to your hotel. You are on holiday after all so why not treat yourself?
Rector's palace - https://www.dubrovnik-travel.net/knezev-dvor-rectors-palace/.
Saint Ignatius Church - https://www.expedia.co.uk/Church-Of-St-Ignatius-Dubrovnik-Old-Town.d6071303.Attraction?pwaLob=wizard-package-pwa.
Franciscan church and monastery - https://www.dubrovnikcity.com/dubrovnik/attractions/franciscan_monastery.htm.
Day four – Banje Beach and Game of Thrones Tour
If you want a bit of sun, sea, and sand on your summer holiday in Croatia, look no further than Banje beach and fit it into day four of your Dubrovnik itinerary. Banje beach is one of the most popular beaches in Dubrovnik because it is known for its gorgeous views of Dubrovnik old town and Lokrum Island, and it has a restaurant and stylish café on the waterfront. You can rent a deck chair, parasol, speed boat and jet ski. Enjoy the morning relaxing with a good book, sunbathing or swimming in the sun.
Grab some lunch and a refreshing cocktail at the stylish café then head back to your hotel to freshen up before venturing out on an exciting game of thrones tour. Take a 3-hour game of thrones tour to see the filming locations of this legendary series. First you will climb the fortress of Lovrijenac, discover the red keep and take in the stunning views of the old town and Kings Landing, the location where the battle of blackwater bay was shot and the house where the undying dragon lived. You will then take a boat ride to Lokrum Island and learn about its history and recent development of the magical town of Quarth. Your guide will reveal the fantasy world of the series and the marvels of the historic city. Tickets cost £77.90 per person but it is worth it when you see the magic of the series unfold in front of you.
After dinner, head to Troubadour Jazz Café for an evening of live entertainment. This is an incredible venue where you will enjoy relaxing and listening to excellent jazz music. Get there early if you want a seat. A perfect way to end day four of your Dubrovnik itinerary.
Banje Beach - https://www.dubrovnik-travel.net/banje-beach/.
Games of Thrones tour - https://www.getyourguide.co.uk/dubrovnik-l513/from-dubrovnik-half-day-game-of-thrones-filming-locations-t110293/.
Start day five of your Dubrovnik itinerary with an exhilarating adventure on a buggy safari tour. Sit back and relax while you are driven by an experienced guide in a 4-seater buggy along the coastal roads and up the curvy path to the top of Mount Srdj. You will be able to stop to take stunning photos of the panoramic views of the Adriatic Sea and old town before venturing on an off the beaten path track to an area which tourists rarely see. You will pass through sights from the recent war, ex-mine fields, woods, and animals from the nearby farm. You will experience a thrilling 360-degree view of the islands, mountains and the whole of Dubrovnik behind the hill. This tour will give you the opportunity to clear your mind and reconnect with nature. It really is an experience not to be missed.
After grabbing a spot of lunch, make sure to fit in your Dubrovnik sailing itinerary by spending an afternoon sailing in the Adriatic Sea. You will have the opportunity to admire the beauty of Cavtat, Elafiti, Old town and Lokrum island where each place offers a distinctive experience. Whether you prefer historical monuments, gardens, sandy beaches, or caves, you can see it all on this sailing tour.
After enjoying a delicious meal in one of Dubrovnik's many traditional restaurants, head to the famous cave bar for a chilled evening. This underground bar offers a unique and cosy atmosphere and is a hidden gem worth visiting. Choose from a variety of alcoholic beverages or fantastic cocktails while listening to the murmur of the sea and watching the seagulls fly up to the sky. It truly is a pleasant way to spend an evening in Dubrovnik.
Buggy Safari - http://www.buggydubrovnik.com/.
Dubrovnik Sailing - http://www.dubrovnik-sailing.com/index_EN.html.
Day six – Dubrovnik Cable Cars, Dubrovnik War Museum and Museum of Modern Art
Go back up to Mount Srdj but this time by cable car. Discover the Dubrovnik war museum which is ideal for history buffs who want to learn more about the homeland war in Croatia. You can see a collection of memoirs, photographs, 3D objects and documents from the war.
After a morning in the homeland war museum, head to the mountains panorama restaurant to savour the flavours of local cuisine for lunch while admiring the breath-taking views of Dubrovnik and the Adriatic Sea. The restaurant has indoor and outdoor seating. Make sure to book a table in advance if you want the best view.
Take a stroll back down the mountain and head to the museum of modern art. This art museum is perfect for art enthusiasts as it is set in an old palace with Gothic architecture and holds collections of paintings and sculptures by some of Croatia's best artists.
Head back to your hotel to freshen up for the evening then explore Dubrovnik's west harbour which is a picturesque bay that was seen in the legendary game of thrones series. Grab a delicious dinner at the fish restaurant and enjoy some fresh seafood or Mediterranean cuisine.
End day six of your Dubrovnik itinerary at the iconic Buza bar which is perched high on a Southern wall overlooking the Adriatic Sea. Grab a refreshing cocktail while taking in the exceptional views and scenery.
Homeland War Museum - http://mdrd.hr/.
Museum of Modern Art - http://ugdubrovnik.hr/?file=naslovna.
Day seven – Elaphite Islands Boat Tour
Spend the last day of your Dubrovnik itinerary exploring the majestic islands of Dubrovnik. On this Elaphite Islands Boat Tour, you will discover the three most beautiful islands Kolocep, Sipan and Lopud that will blow your mind! During this full day trip, you will have the opportunity to swim in the crystal-clear waters, wonder around in the shade of the Mediterranean vegetation, explore small, picturesque villages, or sample the flavours of the local cuisine, it is your choice! A highlight of this tour is the largest island of Sipan where you will find examples of its rich cultural heritage in old churches and ancient villas. This island was even inhabited before the romans. This boat trip is a phenomenal way to end your Dubrovnik itinerary one week as you will experience the best that this fascinating place has to offer by discovering the natural beauty and wonderful, secret places.
After a fantastic day on a boat tour, grab dinner at one of the many restaurants then spend your last night in D'Vino wine bar. This is the smallest but most buzzing bar in Dubrovnik. It is worth squeezing your way through the narrow lane of Stradun and into the bar. You can choose from a wide variety of Croatian and international wines. A perfect way to end a fantastic holiday in Dubrovnik.
Elaphite Islands Boat Tour - https://www.adriatic-explore.com/dubrovnik-day-trips-tours-excursions/elaphite-islands-tour
Dubrovnik is a fascinating city with a rich history and culture. There is something for everyone in this city from historic museums, gothic and baroque churches, bars, restaurants, sandy beaches, hiking trails and water sports, you will not get bored during your one-week holiday. This Dubrovnik itinerary is a one-week guide to ensure that you have an unforgettable holiday. There are different guided tours included but you can do your own thing if you choose. Have an amazing holiday in this beautiful city.