Best Time to Visit Utah
Takeaways
Whether you are traveling alone, with friends or family, there is something for everyone to enjoy while in Utah – whenever you choose to visit Utah will be the best time to visit Utah.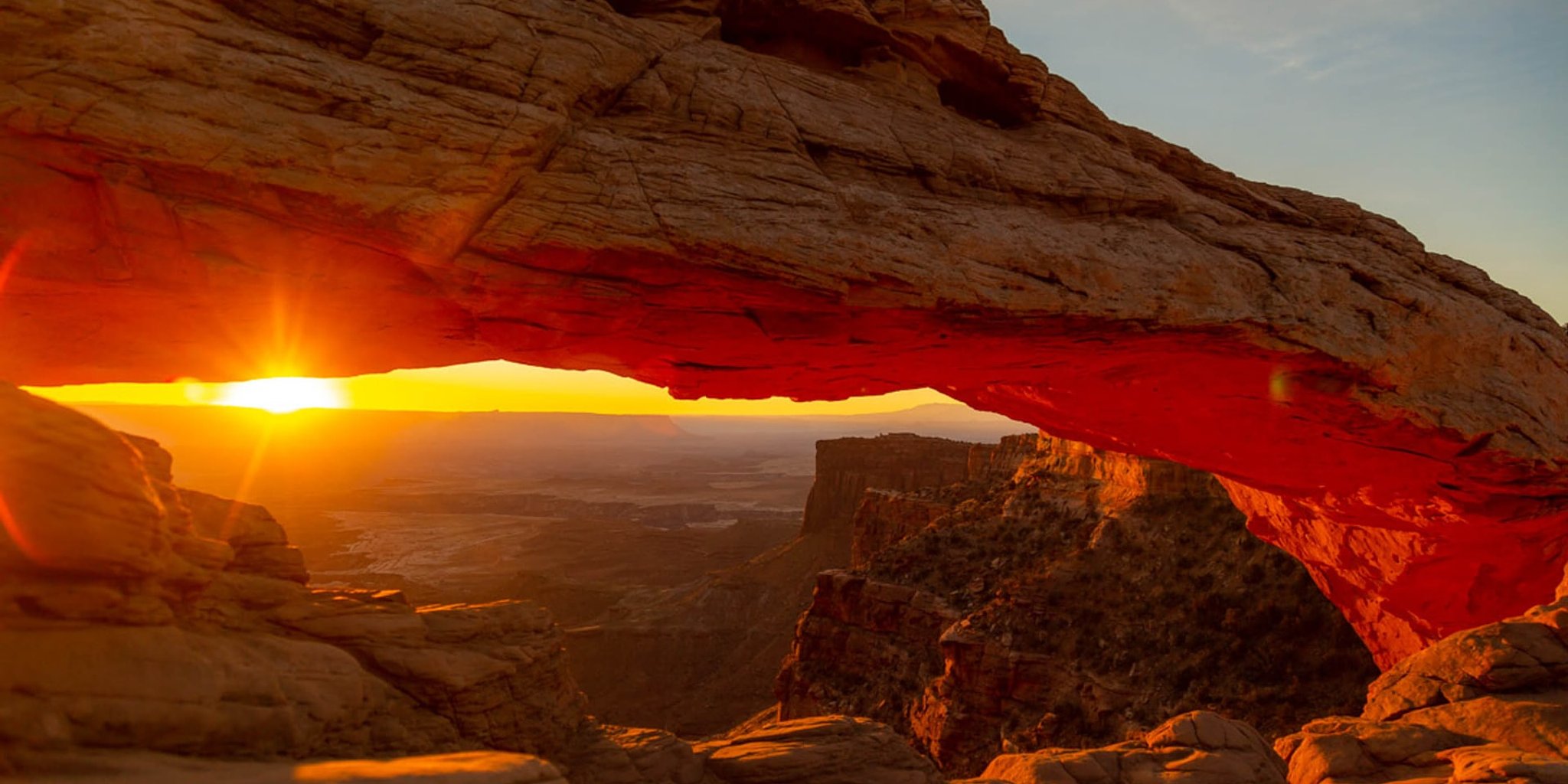 Utah offers a diverse array of stunning natural landscapes and opportunities for outdoor adventure and activities. The state is an outdoor enthusiast's dream come true, with over 14 national parks, 7 national monuments and so many different terrains to enjoy. Some major highlights for parks and recreation in Utah are Zion National Park, Goblin Valley State Park and Bryce Canyon National Park. Let's not forget that Utah is also home to Park City, a world class mountain town with the best skiing and snowboarding slopes, fine dining options and a cozy vibe.
You are probably reading this article to determine the best time to visit Utah. Our answer is nuanced: it depends on what you enjoy doing, seeing and experiencing! While Utah is an outdoor powerhouse, the state also holds major attractions, dining scenes and lively pockets of nightlife. The state cycles through all four seasons, but depending on what elevation you are at, temperatures can fluctuate throughout Utah. Things like crowd sizes, cost and activities will also impact when you decide to visit Utha. Let's break down the four seasons to determine when the best time to visit Utah will be for you.
Best Time to Visit Utah
Visiting Utah in the Winter
Winter in Utah can last from December to early March, and it can get quite cold in Utah during the winter, especially at night. The average high can be 28 degrees Fahrenheit while the lows can reach below the negatives. Why might one want to visit Utah in the winter? There are a few practical reasons why this might be the case. For one, the national parks, state parks and monuments aren't as heavily swamped with visitors in the wintertime, so take advantage of that off-season to enjoy some near-empty natural attractions. For skiers and snowboarders, the winter months bring fresh snow to the mountain resorts around the state, especially Park City, a ski and snowboard capital of the world. Fresh powder leaves the mountains ready for shredding! We recommend checking out Park City Mountain, which is accessible by Park City's free bus service.
Some other fun things you can do in Utah during the winter: speed down a mountain on a bobsled at Utah's Olympic Park (built for the winter games in 2002), find the best hot chocolate, and enjoy luxury mountain resorts with heated pools and cozy lodges. Utah can be a ton of fun in the winter if you enjoy colder weather, so this could be the best time to visit Utah for you.
Spring is a lovely time to visit Utah. The national and state parks tend to get busier, but for good reason: the weather between mid-March to May is comfortable and enjoyable, perfect for hiking and exploring the many awe-inducing parks in Utah. The average spring time high for Utah can range anywhere between 60 and 70 degrees Fahrenheit, with lows between 25 and 35 degrees Fahrenheit. The rise in temperature allows the state to host annual events such as the Tulip Festival at Thanksgiving Point and apple picking in the Capitol Reef Orchards. Due to the constant fluctuation of elevation as you travel throughout the state, it can get pretty chilly at night especially in the parks.
Remember when we said Utah has so many different terrains? Sand dunes is one of them, and they are great to visit in spring – not too hot and you can beat the cold by making it a day trip. Places like the Little Sahara Sand Dunes and Coral Pink Sand Dunes State Park are perfect for camping, ATV rides and off-roading, horseback riding and more. If you like more variety in activities compared to winter, spring can be the best time to visit Utah.
Visiting Utah in the Summer
No matter where you are in the state, Utah gets pretty hot in the summer months. The national and state parks can reach temperatures above 100 degrees Fahrenheit, feeling incredibly hot and dry. Despite the more intense sunshine, the parks still tend to be busy, so we recommend booking any hotel accommodations or experiences at least 3-6 months in advance of your visit. We also recommend keeping an eye on flight prices for the summer months – depending on where you fly into, prices may be higher or lower. You can download apps like Hopper or visit sites like Skyscanner to find the best prices.
Summer in Utah is still a great season to enjoy the state's natural beauty. If water sports are of interest to you and whoever you choose to travel with, we recommend making the trip to Provo River. Tubers, kayakers and white water rafters take Utah's mainstage in the summer, being able to float lazily down Utah's beautiful rivers. Everyone associates summer with swimming, and that is absolutely doable throughout Utah! Visit spots like the Homestead Crater in Midway, Utah or Kanarraville Canyon Falls for a refreshing dip in your best swimsuit. Summer is also a great time to check out Lagoon, one of the state's most popular amusement parks – get your adrenaline pumping on their many high drop experiences and rollercoasters.
Visiting Utah in the Fall
Fall is the season of changing colors throughout nature, making it the best time to visit Utah for hiking. Morning hours at the national and state parks are greeted with crisp air, and on a sunny day the parks feel amazing. The average high during the fall in Utah is anywhere from 50 to 75 degrees Fahrenheit and lows between 45 and 65 degrees Fahrenheit. There are a few hikes we recommend in the fall specifically: Desolation Lake (right outside of Salt Lake City) has beautiful rolling meadows leading to a bowl shaped lake, perfect for the fall. The Wasatch Crest Trail is great for days of biking, whereas Mount Olympus is great for the high altitude views and cooler weather. There are plenty of trails available for any skill levels, from beginners to outdoor dwellers and ethusiasts.
You will also be able to experience many cultural and annual events in Utah – Oktoberfest is celebrated every August through mid-September at Snowbird Mountain, one of Utah's best beer festivals. German food favorites like bratwurst and huge pretzels are served up in the beautiful canyon setting.
More fun things you can do while in Utah during the fall season: walk through intricately carved pumpkin patches at the North Logan Pumpkin Walk, celebrate the Halloween season by experiencing WitchFest in Gardner Village, visit Utah's Hogle Zoo for their Halloween bash, or go on a scenic fall train ride on the historic Herber Valley Railroad. By no means is this an exhaustive list, but hopefully it gets you on the right track for planning your visit to Utah this fall.
Clearly, there is no bad time to visit Utah. The state will always be the mecca of outdoor lifestyle, and traditional and trendy events every year. Crowds will fluctuate from season to season, but they will never be fully avoidable. So, when is the best time to visit Utah? We break it down by preferences and activities right here:
If you prefer hot weather, larger crowds and water sports, the best time to visit Utah is during the summer months (late May through August). Accommodations surrounding the national parks in Utah's southern regions will require booking in advance, and prices per night may be higher during the summer.
If you prefer comfortable weather and a mixture of outdoor/indoor activities or events, the best time to visit Utah is during the fall months (September through November). Fall is a great season for families, with apple picking and comfortable weather for being outside. You'll also find large scale events during the fall season in Utah.
If you prefer cold weather, smaller crowds at the national and state parks, and winter sports like skiing and snowboarding, the best time to visit Utah is during the winter months (December through early March). If you decide to visit in the winter and enjoy skiing or snowboarding (or are planning to take lessons for the first time), we highly recommend visiting Park City for its world class mountains and small town feel.
Utah will not be going away after one visit. If you visit once in one season, you can visit again in another season for a completely different experience. That's the beauty of travel – you can make your time in a destination whatever you want it to be. Based on your personal preferences, budget and more, choose the best time to visit Utah from our breakdown above. Have you ever traveled to Utah? If you're new to the state or looking for first-hand accounts of others experiences, visit our itinerary catalog to find some ideas for your trip!