Best Time to Visit Banff
Takeaways
You are probably here because you want to figure out the best time to visit Banff, Canada. Banff National Park is famous for its mirror-like lakes and its variety in terrain, from perfectly groomed trails to rugged mountain paths.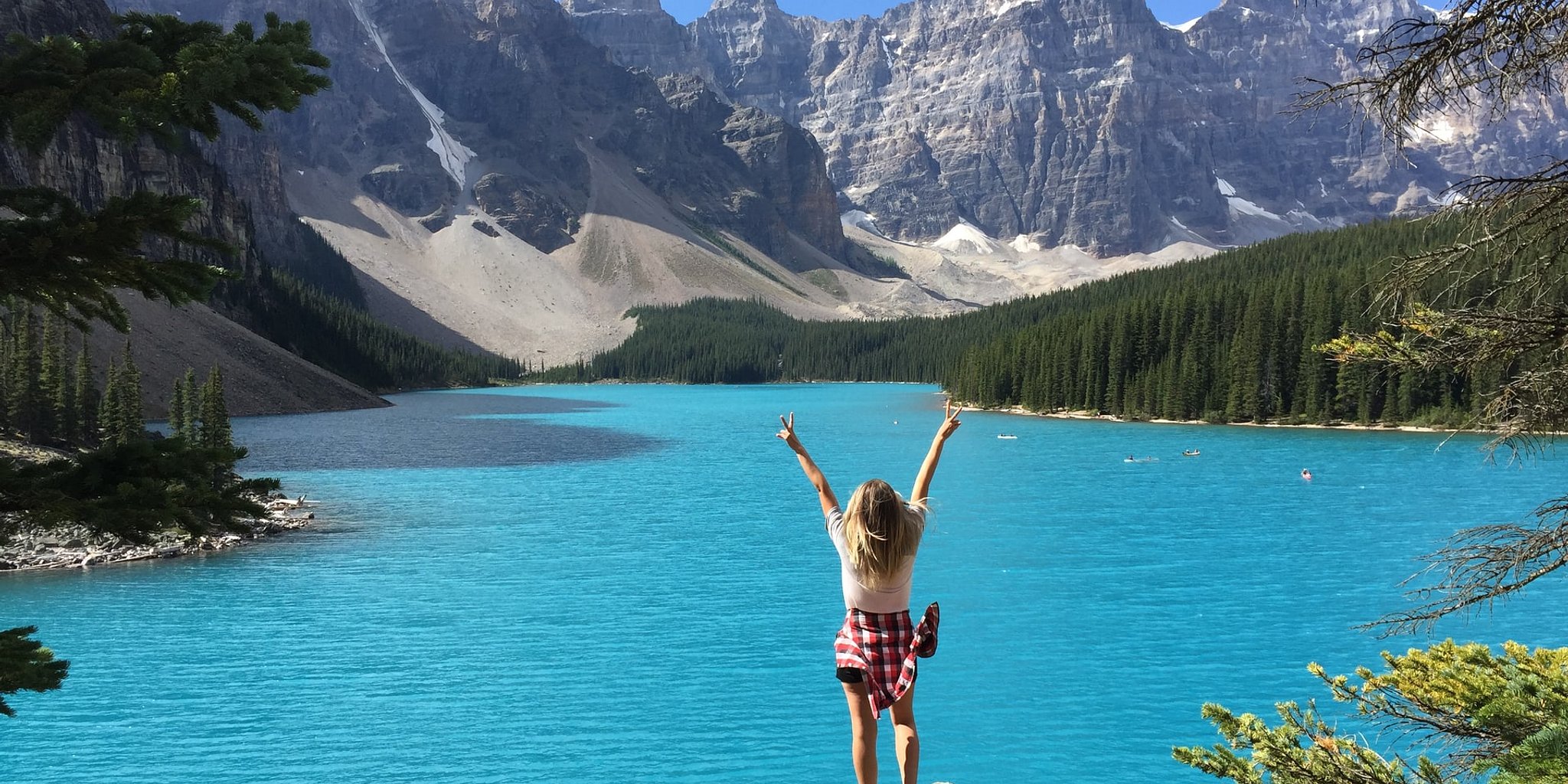 Banff exists on its own plane of exquisite natural beauty and picturesque landscapes – there is truly no place like it. The small town of Banff has adventurous charm to its small shops, cafes, restaurants and breweries. Visitors to Banff can even hike through Tunnel Mountain for incredible views of the valley and the town. A place like Banff, that fills visitors with such wonder and awe, is worth visiting at any given time throughout the year.
Banff National Park was established in the 1880's as Canada's first national park (third in terms of parks around the entire world). Prior to that time, Banff was home to indigenous peoples for centuries as the land is rich in wildlife and a sacred space for natural healing and medicinal practices by the indigenous peoples of Banff. Even for tourists, Banff feels sacred and special to this day – the area feels untouched by the hustle and bustle of everyday life, as the town of Banff and Lake Louise are right in the park. So, when is the best time to visit Banff?
Best Time to Visit Banff
January
January is the best time to visit Banff if you love snowy, cold weather and the fun outdoor activities that come along with it. The surrounding mountains, Lake Louise and other natural landmarks in the area get blanketed in snow, making the area a magical winter wonderland. Visitors can bring or rent ice skates or snowshoes and go across a frozen Lake Louise, or witness the International Ice Carving Competition where Canada's best artists create magical ice sculptures in front of your eyes. Around this time, ski resorts are quiet and you may find some great deals when it comes to traveling or reservations around Banff.
February
February is one of the coldest times to visit Banff, with temperatures dropping into the negatives. Local ski resorts and hotels are ramping up their services to welcome tourists for their peak winter activities season: skiing, snowboarding, snowshoeing – there are plenty of things visitors can do outdoors in Banff this month. One thing you can do for free is hike through Johnston Canyon and see huge ice formations in their purest state! To beat the chill, follow Banff's Hot Chocolate Trail and try some of the best handcrafted hot chocolate in Canada. February may be cold, but it can be the coziest and best time to visit Banff.
March
Winter in Banff is technically over by the end of February in Banff, but there are still plenty of wintry activities to try in March! Ski season is still going strong at this point, but the amount of sun that shines over the Canadian Rockies makes adventuring and exploration really enjoyable. Ride a in a glass gondola to the top of Sulphur Mountain and enjoy a romantic dinner for two at the peak, or get outdoors at Lake Minnewanka to witness a serene, beautiful mountain landscape over the massive 13 mile lake. To relax and unwind, take a dip in the Banff Upper Hot Springs – experience a mixture of cold temperatures while immersed in steamy, natural hot springs. The hot spring waters are said to have ancient healing properties – the best remedy for sore muscles after a day of skiing or hiking down one of Banff's many mountains.
April
April may be the best time to visit Banff weather wise – there is still snow on the ground and the mountains, but you also get lots of sunshine (and a little bit of rain). While the weather can be a little unpredictable, the days are longer due to spring being on the horizon and there is still so much to see and do in Banff! With the shift toward warmer weather, wildlife may become more visible during the day or at night – embark on a twilight wildlife tour with a professional guide and learn more about Banff's local wildlife. Stand on ancient glaciers on the Icefields Parkway, which links Lake Louise with neighboring Jasper, Alberta – this is especially fun if you rent a car because there are so many landmarks along this 230+ km highway!
May
May is officially part of the off-season for the Banff area, which makes it one of the best times to visit Banff. Banff National Park is very quiet, but ski resorts are still operational while snow begins to melt at the lowest elevation points in Banff. The weather remains a bit unpredictable, but Lake Louise is beginning to thaw by May and you can expect sunshine overall! With the transition from winter to spring/summer outdoor activities, May is a great time to get outside in Banff. You can bike the Bow Valley Parkway and stop at one of the many lookouts or other points of interest along the way. White water rafting also starts to pick up in May, so whether you're a beginning or an expert, there are plenty of white water rafting adventures to take advantage of along some beautiful rivers.
June
June is the best time to visit Banff if you enjoy smaller crowd sizes and somewhat warmer weather. Crowds are smaller than in the following summer months and most of the snow and ice has melted off, meaning Lake Louise will be bright blue and bringing in more visitors! Speaking of lakes, many of Banff's major lakes will be open to visitors by this point – guests can canoe or soak in the beauty of Lake Louise, Lake Minnewanka, Moraine Lake and more lakes local to the area. Hiking through the majestic mountains of Banff will also be ideal by June – we recommend the hikes listed here for early spring and June.
July
For those looking to shed their winter coats and enjoy Canada's natural beauty in short sleeves, July is the best time to visit Banff. There is minimal rainfall, lots of sunshine and slightly chilly evenings during the summer in Banff – this is a great time to be outside and enjoying the vast amount of activities or events popping up, but be aware that July and August will draw in more visitors from out of town. Explore the town of Banff with their seasonal markets and bazaars, and balance your time downtown with beautiful mountain views by canoeing or kayaking on some of Canada's most beautiful lakes.
August
If you want to enjoy Banff's hottest weather out of the entire year, August is the best time to visit Banff; but it's not just about the weather. August is the final month of the summer season and the mountains are alive with wildlife, fresh flowers and the perfect terrain for hiking and outdoor leisure time. August is also the busiest time of the year for Banff National Park – but don't let that stop you from having a great time. Visit Banff's Cascade Gardens to get up close and personal with a mix of seasonal and year-round plant life found in Banff. Another fun activity we recommend is hiking up to one of Banff National Park's two tea houses for a memorable afternoon snack.
September
Say goodbye to summer and welcome on the most magical times of the year to visit Banff. The large crowds start to die down, cooler weather begins to settle in and leaves begin to lose their summer green and adopt the colors of autumn. Soak in the coming fall vibes with a hike on one of Banff's many hiking trails – we recommend these epic trails (for a mixture or beginners and advanced adventurers). This is also your last chance to visit Moraine Lake before the main access road is closed down in anticipation of the winter season. For first time visitors, take an Open Top Tour of Banff – weather permitting, you can sit on the roof of the bus and enjoy a ride through the beauty of Banff.
October
Banff turns into a quintessential autumnal environment come October – the leaves have fully changed their colors to vibrant yellows and reds, the air is crisp all day long (and into the evening), and crowds are low enough for some to consider October a part of the off season. Unique adventures for lovers of the outdoors pop up, such as taking a Larch tree hike, when the Larch tree species is thriving. For something Halloween themed, Discover Banff Tours offers a night time ghost tour through the Bow Valley's haunted alleyways and creeping courtyards. Many of the local breweries in Banff will have specials during Halloween with festive cocktail creations contests and more – we recommend visiting Banff Ave Brewing Co.; they typically host a costume contest where the winners receive gift cards and other fun prizes!
November
If you are not a fan of crowds and prefer a quiet journey through Canada's natural beauty, then November is the best time to visit Banff for you. November is definitely an off month – it's usually cold, rainy and not as visually pleasing as other months of the year. But ski resorts are open for business by this point and you will have your fair share of space while skiing or snowboarding down the mountains. For a completely different view, see the Canadian Rockies from way up in a helicopter – an activity bound to liven up any November visit! Even if the temperature is falling, you can explore an underground cave where the temperature never changes. In Banff, you can visit Rat's Nest Cave and adventure through one of Canada's longest caves. Various tours are offered based on skill level, so if you've never been in a cave before, you will be just fine!
December
Like most places around North America, Banff enters the holiday season come December. This means the holiday spirit is in full swing and the natural beauty of Banff remains unmatched, making this the best time to visit Banff! One of Banff's best holiday traditions is experiencing Christmas at the Castle, hosted at the Fairmount Springs Banff Hotel every year. The halls of the hotel are transformed into a festive wintry wonderland, and you can dine on the hotel grounds with your friends, family or loved ones! Outdoor winter activities are also back in action come December with the consistent snowfall. Enjoy skiing, snowboarding, dog sledding and more activities!
Best Season to Visit Banff
The best season to visit Banff, or any destination, is totally subjective. There are a variety of preferences that will impact what feels best to you and your travel party – weather, types of activities, crowds, costs, and other considerations will determine your best time to visit Banff. Below is a breakdown of the best time to visit Banff based on personal preferences:
For those seeking cold weather, plenty of snow and outdoor winter activities – the best time to visit Banff would be in January, February, March, and December
For those seeking smaller crowds, the ability to enjoy both indoor and outdoor activities, and water OR snow-based activities – the best time to visit Banff would be in April, May, June, or November
For those seeking warm weather, more daylight, and a variety of water sport activities – the best time to visit Banff would be in July through August
For those seeking a fun, festive experience

– the best time to visit Banff would be in October and December
Whether you decide to visit Banff in the off-season for a quiet escape into nature or during the peak winter/summer seasons, the beauty of Banff will always be standing tall and strong to welcome visitors. Each month will hold new opportunities to explore Banff in fun and unique ways!