Top Things to Do in Amsterdam in December
Takeaways
As if there wasn't already so much to do in Amsterdam, the top things you can do in Amsterdam in December are amplified by the holidays and the traditions that happen in December.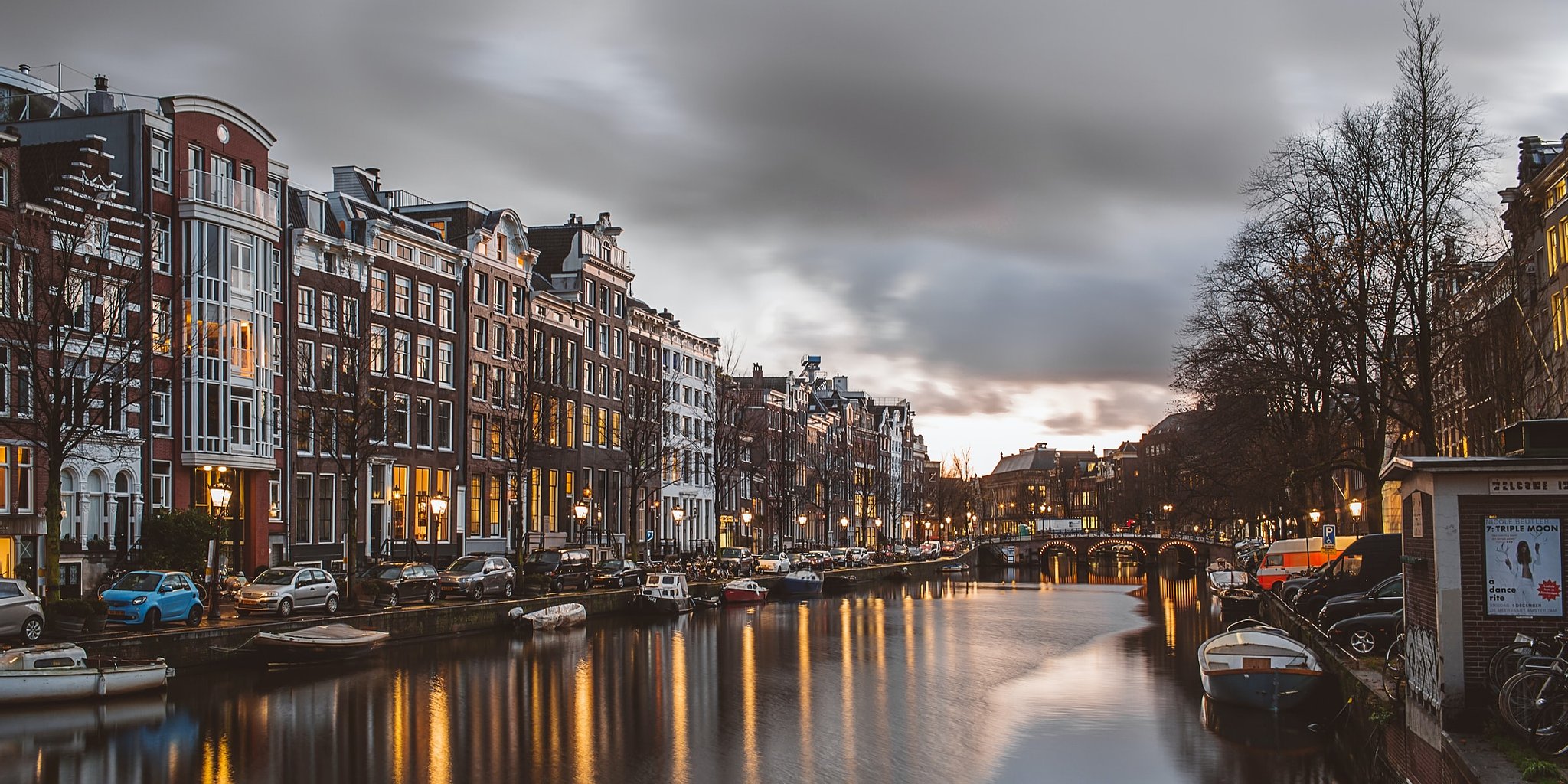 December is an excellent time to visit Amsterdam, the capital of the Netherlands. The cobblestone streets are lined with bright lights and a warm buzz of holiday cheer – while the city is chock-full of historical and cultural touchpoints, there is also a modern vibe brought on by the city's art and music scene, as well as the creative food industry in the city.
Our guide will take you through the basics you'll need to consider when planning your travel and things to do in Amsterdam in December, with a list of timeless suggestions and an FAQ section to make sure we cover all of your curiosities.
Weather in Amsterdam in December
While the city transforms into a winter wonderland with holiday markets, festive décor and amped up outdoor activities, Amsterdam rarely reaches freezing temperatures in December. The month of December is quite mild, with highest temperatures reaching between 40-45 degrees Fahrenheit/5-5.5 degrees Celsius and the temperatures dipping to 30-35 degrees Fahrenheit/.5 degrees Celsius. Due to how mild the weather can be, December does tend to be the rainiest month of year for Amsterdam, accumulating 3 inches over the course of 15 days (on average). When it comes to packing for the weather, make sure you have a good coat and waterproof shoes to protect yourself from the cold rainwater. The days are shorter with the sun setting around 4:30-5 p.m. and only a few hours of sun throughout the day. Despite this, you will feel like you're in a festive holiday environment!
Places to Visit in Amsterdam in December
Related Video: https://www.youtube.com/watch?v=LiZY0g5RYlY
Regardless of what you think you may already know about Vincent Van Gogh, this museum is a must-visit on any bucket list. The Van Gogh Museum in Amsterdam is home to the most Van Gogh paintings in the world, straying from just his greatest hits to also display his sketches, early drawings, and letters to fellow artists and family members. What types of art influenced Van Gogh? How did his decaying mental health show up in his work? You will get to know the artist through many different mediums while enjoying the open, winding architecture that holds this piece of Holland's art history. We highly recommend booking your tickets as far in advance as possible.
Flower Market (Bloemenmarkt)
December in Amsterdam can be rainy, which can put a damper on many plans you have outdoors. However, rain or shine, Amsterdam's famous floating Flower Market has been open to tourists and locals alike since 1862. Known to locals as the Bloemenmarkt, you can find fresh flowers Monday through Saturday, along with Dutch inspired souvenirs and treats. While fresh flowers may not last you long while traveling, you can also purchase tulip bulbs or seeds to bring home and start your own tulip garden – a great addition to your backyard when you're missing Amsterdam!
Ever wonder how a small Dutch brewery became one of the most beloved beers around the world? To understand the history of that little red star on every Heineken bottle, check out the Heineken Experience. You'll learn everything about the Heineken brand story, from small beginnings to serving up the perfect pint. The tour itself is self-guided and lasts about 5 hours, but once you've explored the brewery, you can wrap up your experience by sipping on a Heineken at the Best 'Dam Bar. Even if you aren't a fan of beer, this is still a really cool attraction right in the heart of Amsterdam for anyone 21+.
The Rijksmuseum, lovingly known as the "museum of the Netherlands," tells the story of over 800 years of Dutch history in an uncensored and honest way. For example, this spring 2021 the museum will open an exhibition about slavery and the 250 years that it existed in the Netherlands. You'll see the fine arts on display from artists such as Rembrandt, Van Gogh, Vermeer and more, all connected to the museum's appreciate for Dutch heritage, history and culture. The Rijksmuseum offers great perks for guests – if you're coming straight from the airport, you can store your luggage at one of the information desks while you get your Amsterdam experience rolling. If you plan to visit Amsterdam and the Rijksmuseum again during peak travel season, you can purchase a pass to skip the line, a "fast pass" as some call it. Outside the museum, you'll find the classic "I Amsterdam" sculpture – so you'll be able to see hundreds of years of Dutch art and a popular tourist attraction in one visit!
When you think of the holidays, you probably imagine the bright, warm lights lining the houses, buildings and streets of where you live. Amsterdam's Light Festival does exactly that, but takes light art and décor to an entirely different level. This is the world's largest, most comprehensive light festival that boasts an internationally traveling collection of light installations. You'll find light installations along the canals and in popular locations throughout the city, like Dam Square or the museum district. The festival lasts for about 53 days each year, so it'll be hard to miss when visiting during the winter months!
The story of Anne Frank spans the world through The Diary of Anne Frank, but the Anne Frank House (formally named "Anne Frank Huis") helps guests understand what it was like to flee the violence of anti-Semitism in the 1940s. In the house, visitors can walk through the story of the Frank family and witness the secret annex where 8 people hid from the horrors of the Holocaust. This museum is extremely popular, and it is recommended that you secure tickets at least 3 months in advance. Don't expect to be able to walk-up and secure your tickets the day you're in Amsterdam – this is a bucket list item, so plan accordingly!
Christmas Square at Museumplein
If you plan on visiting in December, the holiday spirit will be alive all over Amsterdam. One of the best outdoor activities you can participate in is walking through the Christmas Market at Museumplein, right near the Rijksmuseum. Ditch the generic souvenirs at the airport and explore hundreds of street vendors, artisans and more selling one of a kind gifts, sweets and treats. You can also cut down on gift wrapping – many vendors will wrap your gift for you upon purchase! A free souvenir you can get at the Christmas Market is a cup – let us explain. To keep Amsterdam clean of litter, you purchase a cup for €2 and exchange it for a new one for every drink you purchase. Once you're ready to leave, exchange it for free for a commemorative cup you can take home with you.
Nothing screams "winter" more than outdoor ice skating! Cleverly named after the "I Amsterdam" statue that tourists love to take photos with, Ice*Amsterdam is an outdoor ice rink located right in front of the Rijksmuseum (there's another rink outside of the Rembrandt Museum too!). Ice*Amsterdam is typically open between November and January, leaving extra time to skate in the New Year. Lining the rink is also an area to eat, drink and be merry during the holiday season – because skating works up a thirst and an appetite.
One of Amsterdam's most prominent features as a city is the amount of canals you can see just walking down the streets. It is possible to explore the city by water, and you can do that by booking a canal cruise! Canal cruises can be a great family activity during the day and a romantic date by night. With some canal cruise or tour operators, such as Amsterdam Canal Cruises, you can pair a canal cruise with another cultural activity. Amsterdam Canal Cruises offers tour packages such as "Half Day Cheese Market Tour + Canal Cruise," or explore the Keukenhof Tulip Gardens before hopping on a boat in the canal. Some tours are a full day ordeal, but half days are possible too!
Frequently Asked Questions:
Q: Is it easy to get around Amsterdam?
A: Yes! Amsterdam is a very walkable city, but they also offer an efficient public transportation system, which you can read about on the NS website. We recommend purchasing an I Amsterdam City Card, which will give you access to city-wide public transit by bus, metro, ferry and tram. Amsterdam is also a bike-heavy city – there are hundreds of bus rental depots and shops around the city and are a great way to see the city on wheels. Be careful of bike lanes as a pedestrian – since bikes are so popular in Amsterdam, make sure you're looking both ways before crossing the street and steering clear of bike lanes when wandering around Amsterdam. Many people speak both Dutch and English, so feel free to ask for directions or suggestions!
Q: How can I get the best deals at museums and attractions around Amsterdam?
A: You bet – in addition to city-wide public transport at your finger tips, the I Amsterdam City Card also gets you discounts and admission waivers to 70 museums and hundreds of restaurants, cafes, and attractions around the city. If you're a college/university student, bring your student ID with you to Amsterdam – you never know what types of discounted tickets or offers you might find for lower, more student-friendly prices! Children are also accommodated with lower prices and admissions to museums around the city, some museums even letting children in for free!
Q: I'm headed to Amsterdam in December – what should I pack?
A: Great question! As mentioned before, December is Amsterdam's rainiest month out of the whole year, but you shouldn't let that rain on your parade. Pack warm clothes (sweaters, pants, long sleeve t-shirts) but also think about layering. If you can mix and match certain layers, it will help you reduce the amount of clothing you end up bringing. Make sure you have an adapter/converter – the outlets in every country you travel to will be different, Holland is no exception. Since Amsterdam is so walkable, we also recommend comfortable shoes and boots.
Q: How many days do I need in Amsterdam?
A: It depends – you can comfortably witness all of the tourist attractions and museums of your choice in about 3 days. If you want to do a deeper dive into non-touristy Amsterdam, aim for 4 to 5 days. You can check out our Amsterdam itineraries to see how you can include Amsterdam in your European travels when you're ready to start planning.
Q: Is Amsterdam fun in the winter?

A: Absolutely. Amsterdam is fun any time of the year. If anything, the holiday spirit gives the city a warm, cozy and welcoming atmosphere no matter what you plan on doing throughout the city. Winter also tends to be less crowded in certain parts of the city, so take advantage of the off-season and plan ahead. If you need more suggestions for places to see, what to eat, and things to see, check out our catalog of Amsterdam-based itineraries, written by real people with real experiences. You can find anything from unique tips and tricks or restaurant recommendations for your travel to the city of Amsterdam.
Q: I plan on being in Amsterdam on Christmas Day. Is anything open?
A: Yes – you'll see lots of restaurants and shops open on Christmas Day. If you want to attend a traditional church service on Christmas, there are plenty of churches open to the public to celebrate. Many of the city's museums (The Van Gogh Museum, the Rijksmuseum, the Hermitage, etc.) remain open on Christmas Day. It's good to remember that Christmas is not celebrated by everyone in the world, so cultural attractions and restaurants tend to stay open.
Amsterdam is a beautiful city to visit and explore year-round, but the month of December presents an opportunity to get acquainted with many of the warm, indoor cultural sites throughout the city of canals. If you don't mind the mild weather, there are plenty of wintery activities you can pursue and enjoy the great outdoors – and you don't even have to leave the city for that experience. You'll have the opportunity to experience the seasonal magic of Amsterdam with smaller crowds and celebrate the end of the year in style. For more tips, tricks and best places to visit around Amsterdam, check out our catalog of itineraries written by real people with real experiences. Have you been to Amsterdam in December? Let us know what you enjoyed doing or seeing while you were there!